Auto Repair in Jackson, MI
We are more than a towing company! Our full service auto repair facility features some of the area's best mechanics. Our ASE and state-certified staff will get your vehicle running and get you back on the road quickly. contact us for an estimate to complete your repairs. We service all makes and models.
PREFERRED CUSTOMER CARD-Real Card Coming Soon!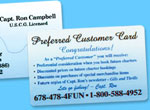 After your first service you become a "Preferred Customer."

As a preferred customer you will receive a card identifying your preferential status and outlining your special benefits.

• Preferential consideration when your vehicles need maintenance, repair and towing.
• Discounted prices on future maintenance, repair and towing.
• Discounts on purchases of special merchandise items.
• Future copies of Eric's newsletter "Truck Grills & Thrills"

OIL CHANGE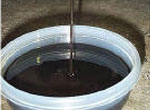 Jimmie's recommends an oil change and maintenance check every 3 months or 3,000 miles, whichever comes first. At Jimmie's, every full-service oil change includes up to 5 quarts of Oil, a new oil filter, and vehicle lubrication according to manufacturer's specs. At the same time, we also perform a complete preventive maintenance check of your Transmission fluid, Power steering fluid, Battery water, Windshield washer fluid, Antifreeze/coolant, Differential fluid, Tire pressure, Transfer case fluid and a fresh car scent.
ENGINE TUNE UP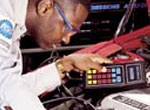 Keep your engine working better longer. Trust Jimmie's for expert routine maintenance tune-ups and engine diagnostic services. We offer a range of special engine performance service packages to fit your specific needs, using only quality components. Recommended for vehicles that have not been recently serviced. Have over 60,000 miles. Meet or exceed certain manufacturerÕs recommended mileage intervals.
Idle rough or ping. Have poor acceleration or poor fuel economy.

More Information Than You Need To Know - How Stuff Works
BRAKES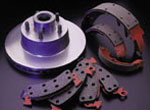 If your vehicle isn't stopping like it should, don't hesitate, bring it into Jimmie's today for a FREE brake inspection. Problems with the braking system on your vehicle are serious and waiting to bring it in when there is a problem may just make the problem worse. Bring your vehicle into Jimmie's for a FREE no-obligation brake inspection at the first hint of trouble. Our technicians will inspect your automobile brakes and tell you exactly what the problem is.

How they work: When you push on the brake pedal, hydraulic pressure is generated in the master cylinder that is transmitted to the actuators - the wheel cylinders and caliper pistons- through the brake lines, thus applying the brakes.

More Information Than You Need To Know - How Stuff Works
SHOCKS / STRUTS / SUSPENSION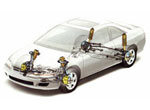 Jimmie's can fix your power steering and suspension systems. We provide complete steering and suspension systems service! Jimmie's does it all! Wheel Alignment, Front End Parts, Wheel Balancing, Tire Rotation, Shocks and Struts, Strut Mounts, Coil and Leaf Springs, Steering Stabilizers, Rack and Pinion and Motor Cushions.

More Information Than You Need To Know - How Stuff Works
BATTERY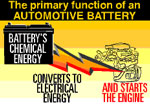 Jimmie's carries a full line of batteries. We'll solve your electrical problem, get you started and on your way.

More Information Than You Need To Know - A car battery supplies power to the starter and ignition system to start the engine. A car battery supplies the extra power necessary when the vehicle's electrical load exceeds the supply from the charging system. A car battery acts as a voltage stabilizer in the electrical system. The battery evens out voltage spikes and prevents them from damaging other components in the electrical system.

If the battery won't start your car, you usually refer to it as "dead," even though that's not technically correct. A car battery that's merely discharged - from leaving your headlights on or from a damaged alternator - can be recharged to its full capacity. But a battery that's at the end of its service life can't be recharged enough to restore it to a useful power level. Then it truly is dead, and must be replaced.

If the battery is discharged but not dead you can jump-start it from another fully charged battery. About 30 minutes of driving should allow the alternator to charge the battery until you can get it to a service station for a full charge. However, if the alternator or another part of the electrical system in your car is damaged it wonÕt be possible to recharge your battery. So if your battery keeps discharging, first have your electrical system checked. What looks like a bad battery could be an electrical system problem; if you have a bad component in the electrical system, it will keep draining a new battery, and you'll be stranded again and again.
MUFFLER / EXHAUST SYSTEM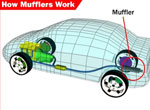 Your car's exhaust is crucial to its performance. While the exhaust system is primarily designed to reduce noise, it is also responsible for reducing harmful emissions. A properly functioning muffler and exhaust system not only sounds better, it is better...for all of us. Jimmie's takes pride in providing high-quality mufflers, pipes, and other exhaust components. Our catalytic converters meet stringent EPA and CARB requirements for pollution reduction. We offer a full range of exhaust service options, from high performance mufflers and exhaust systems, as well as value-oriented replacement mufflers and systems. So, stop by Jimmie's today for a free exhaust inspection and get the peace of mind that a leader provides.

More Information Than You Need To Know - How Stuff Works
TIRES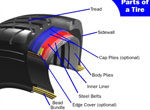 Jimmie's carries a full line of car, truck and semi tires, plus the equipment to change your tires on site. We recommend that high performance tires be rotated every 3,000 to 5,000 miles, even if they don't show signs of wear. Tire rotation can often be done with oil change intervals while the vehicle is off the ground anyway. Tire rotation helps even out tire wear by allowing each tire to serve in as many of the vehicle's wheel positions as possible. Remember, tire rotation can't correct wear problems due to worn mechanical parts or incorrect inflation pressures.

More Information Than You Need To Know - How Stuff Works
ELECTRICAL / LIGHTS / HEATING & COOLING / WINDOWS / GAUGES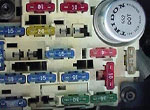 Jimmie's services all major and minor electrical systems.

COMPLETE COMPUTERIZED ENGINE ANALYSIS - It's Worth Every Penny!

In 1970, the average car had only $25 worth of electronics. By 1981 the average car contained over $1,000 in electronics, and by 1996 it included over $3,500 in electronics! That figure is still rising.

Today, vehicles' computers operate everything from air conditioning, radios, air bags, alarm systems, anti-lock braking systems, traction control, ride control and cruise control to electronic digital and analog instrument panels, automatic transmissions and emission and engine controls. These computers can cost from $250 to as much as $1,500, depending on what they control!

Avoid unnecessary repair and parts costs! We have the latest computerized diagnostic equipment, a computerized information system, and experienced ASE Certified Technicians who are trained to properly care for your car. Our complete computerized engine analysis can save you money by correctly diagnosing your vehicle's problems right from the start. Make an appointment today!

More Information Than You Need To Know - How Stuff Works
TRANSMISSIONS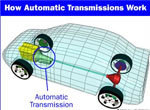 Jimmie's has serviced thousands of vehicles since 1959. That's a lot of know-how, experience, and a lot of very satisfied customers. Jimmie's technicians are specialists who have dedicated years to repair the most complicated system in your car: the transmission. Jimmie's have state-of-the-art diagnostic equipment, which means an external diagnostic check can catch expensive problems before they happen. If you think you have a transmission problem, you need someone to fix it right. The experts at Jimmie's stand behind their work. Not just for today, but for as long as you own your car.

More Information Than You Need To Know - How Stuff Works